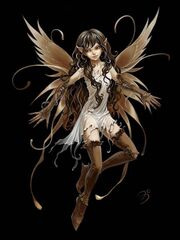 Sylvia Goldbloom is a Hybrid. She is Half Fairy / Half Vampire.
She is the messenger of the Elf Princess Ramity O'hsera. Her enemy is Erissa Holone the Sprite warrior.
She is the go between for Ramity & Ivan and Ramity & Aaron communicating messages that Ramity sends to them.
Abilities
Edit